I browsed through the kyokai's banzuke pages and noticed that some of the pictures were updated. Few guys seem to be wearing a new kesho-mawashi on their official kyokai portraits while others (those with few basho under their belts in juryo) are now seen wearing kesho for the first time.
Here they are in alphabetical order:
Juzan
in a cartoonish one.
Kasuganishiki
's very tasteful heron kesho.
Shimotori
in a replica of his do-beya Tokitsuumi's kesho; apparently from the same college or university.
Takamisakari
in a new... how shall I put this... strange design.
Takanotsuru
wears bright yellow which seems to be in vogue.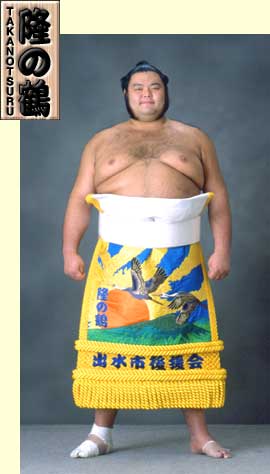 Tamarikido
's simple and yellow one.
Tochinonada
's gone from blue to red. It suits him!
Ushiomaru
in excessively canary bird yellow! Uh... :-0
Which one do you prefer? I think Kasuganishiki's kesho is very elegant. (Thumbs up...)